Capturing Screenshots for Printing Is Just A Click Away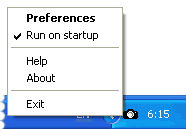 With all the complex software for capturing screens these days, it would be nice if someone would make things easier. How about just clicking one hotkey and get a window or the entire desktop captured and sent directly to the printer? Sounds easy and it is, if you install ScreenShot2Print.

What is ScreenShot2Print?
Designed to be used in the home or office, ScreenShot2Print (ˆ12) makes screenshots of any active window or the entire desktop and sends them directly to the printer. Install it and you're on the way to easy screenshot capturing and printing without any graphical interface. Since by default it runs quietly in the background, you can continue to use your computer as you would normally do.
Once ScreenShot2Print is installed, you simply begin using it. Click Ctrl-PrtScr and a shot of the entire screen is taken and sent to the printer. Click Shift-PrtScr and a screenshot of the active window goes to print. ScreenShot2Print works fine right out of the box but you may customize its trigger hotkeys to suite your personal preferences.
By default, ScreenShot2Print runs at Windows startup and sits in the tray without obscuring the screen like other screenshot programs do. To protect your images, you can enable watermarking and set the position of the watermark, type in its text, set the fonts, color and transparency level. Just like it is with a digital photo camera, it lets you set a time delay before capture and set the number of shots to be made on clicking the hotkey.
Who needs ScreenShot2Print?
ScreenShot2Print is a fun product that is actually useful in that it lets you make the shots of the windows, desktop, program interfaces, games and print all this to paper. The program can capture OpenGL and DirectX and print maps from games. Or, it can be used to print the content of the web pages when traditional methods are disabled or impossible for any reason. The software is primarily aimed at technical writers, designers and software developers.
Why use ScreenShot2Print?
Typically people use Print Screen option in Windows to make a shot of the screen. This shot is held in clipboard and can be pasted to a document. But sometimes you only need to make a shot of some window rather than of the entire desktop and get it printed on paper. This is where ScreenShot2Print is ideal and suites your needs perfectly.
ScreenShot 2 Print features:
makes shots of active window and entire screen directly to printer;
easy to use;
text watermark;
high speed;
redefinable hotkeys;
small executable size;
customizable separated shortcuts for active window and entire screen;
minimizes to tray.
ScreenShot to Print is shareware application.